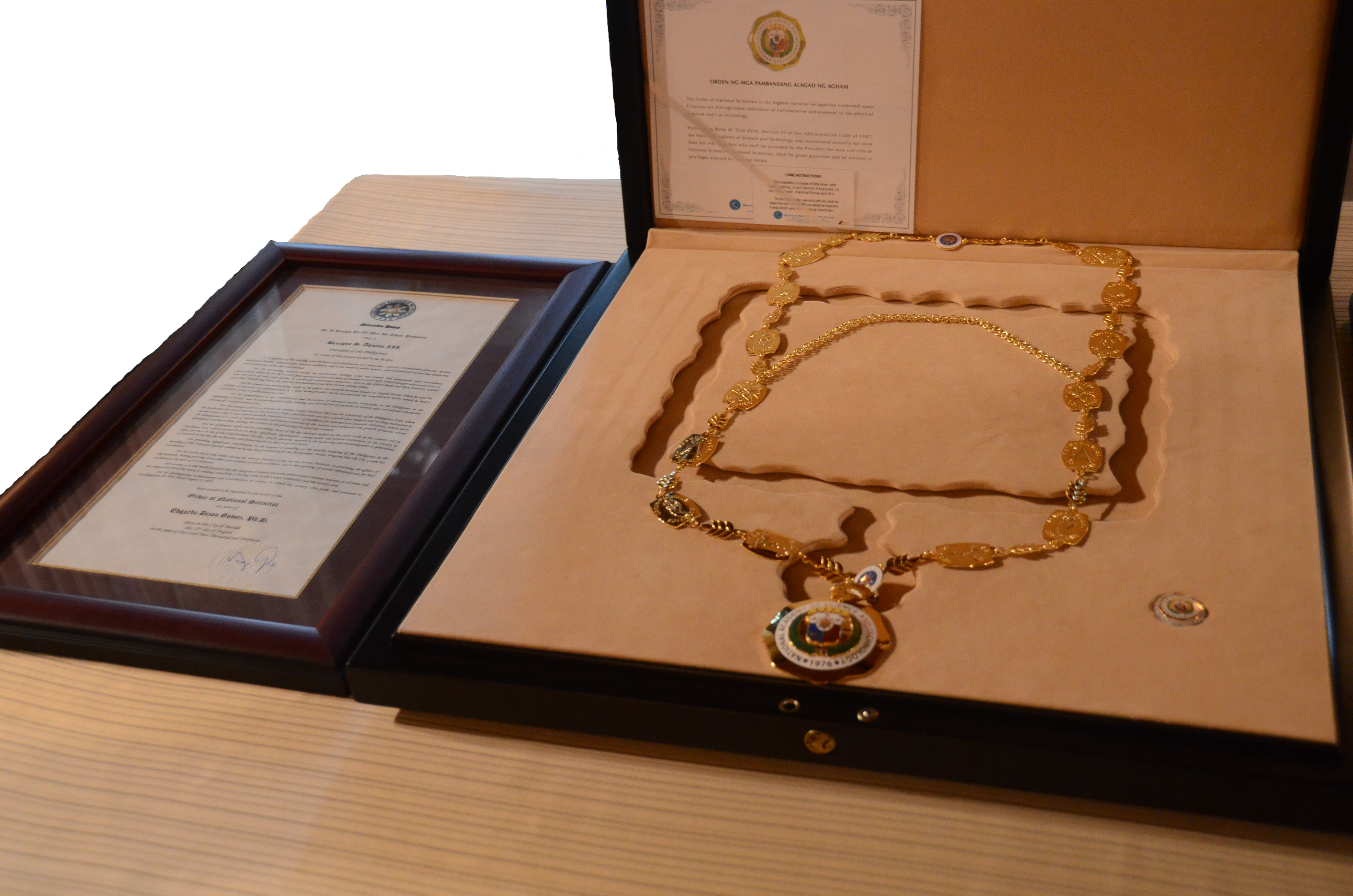 PD 1003-A intended to create a body to recognize outstanding achievements in science and technology as well as provide meaningful incentives to thoseengaged in scientific and technological research. In doing so, it also created the distinction of National Scientist, the highest honor given by the President of the Republic of the Philippines to a Filipino man or woman of science in the Philippines who has made significant contributions in one of the different fields of science and technology.
National Scientists are recommended annually by NAST "for distinguished individual or collaborative achievement in science and/or technology" and are accorded rank and title by the President. According to PD 1003-A, National Scientists "shall each be given a gratuity in such amount to be fixed by the Academy and shall be entitled to other privileges as are enjoyed by the 'National Artists'."

In 2003, EO 236 was signed by President Gloria Macapagal-Arroyo. It codified the system of Philippine Orders and State Decorations, and elevated the standing of the National Scientists into the Order of National Scientists, with the Order defined as such:

… an award that grants membership in an exclusive association of honored individuals, and which by tradition carries with it distinctive insignia to be worn by recipients.

Since 1978, the President of the Philippines has conferred the rank and title of National Scientist on 35 Filipinos, 14 of whom are still living.

PD 1003-A defines a scientist as an individual who has earned a doctoral degree in any field of the sciences in an accredited university, and has demonstrated and earned distinction in independent research or significant innovative achievement in the basic and applied sciences, including agricultural, engineering, medical sciences, and mathematics, as manifested by his/her published works in recognized scientific and technical journals. The decree stated however that "in highly meritorious and extremely exceptional cases the foregoing doctoral degree requirement may be waived."
Process of naming a National Scientist
Members of NAST nominates for consideration
Members of NAST votes on the names to be recommended to the President
NAST deliberates the nomination
President issues a Presidential Proclamation naming the National Scientist
The order of the National Scientist is conferred during the ceremonies
*A 60% vote of NAST Members is needed for a name to be recemmended
*Only 10 names per year may be submitted for consideration for the order of the National Scientist
SEX-DISAGGREGATED DATA OF NATIONAL SCIENTIST

(living and deceased)
| | | |
| --- | --- | --- |
| | MALE | FEMALE |
| NATIONAL SCIENTIST | 31 | 11 |